Healthy homemade dinners are important for our family and for us women who barely have enough time in a day; especially on busy nights.
However, it doesn't mean we have to slave over a stove for hours, sometimes it pays to cut corners in order to get a healthy meal on the table fast.
After starting my weight loss journey, I realized that eating at home vs on the road not only saves money, but it is better for my health and with the few sessions I've had with XII Rounds of Fitness, LLC  about nutrition and fitness, I've gathered a few delicious meals that has helped me to get dinner ready in a hurry. Below are my top three 30 minute or less meals to try.  If you have meals that you would like to share, please comment… I would love to hear from you!
Poached Ginger Chicken
In just 20 minutes, you'll be staring down a delicious plate of Asian chicken salad. At less than 450 calories a serving, we won't tell if you decide to have a glass of vino, too!
Ingredients
4 boneless, skinless chicken breasts (1 3/4 to 2 pounds)
salt to taste
1 2 -inch piece ginger, peeled
1 large shallot
3 tablespoons peanut oil
1 tablespoon toasted sesame oil
1/2 teaspoon sugar (I use stevia…and just a pinch)
1 English cucumber, halved lengthwise, seeded and thinly sliced
1 bunch radishes, thinly sliced
1 teaspoon Asian chili sauce
1 bunch watercress, trimmed or Arugula or Baby Spinach (*I use whatever is on sale)
Juice of 1 lime
Preparations go to: https://www.pinterest.com/pin/200128777165499144/
Asian Tacos with Grilled fish and Peanut Sauce
Fish tacos can be sinful if fried, but if you cook them in a skillet or grill them, you will only consume about 325 calories and 25 grams of protein. If you're not a fan of tilapia, sub for any other white flaky fish, if you'd like.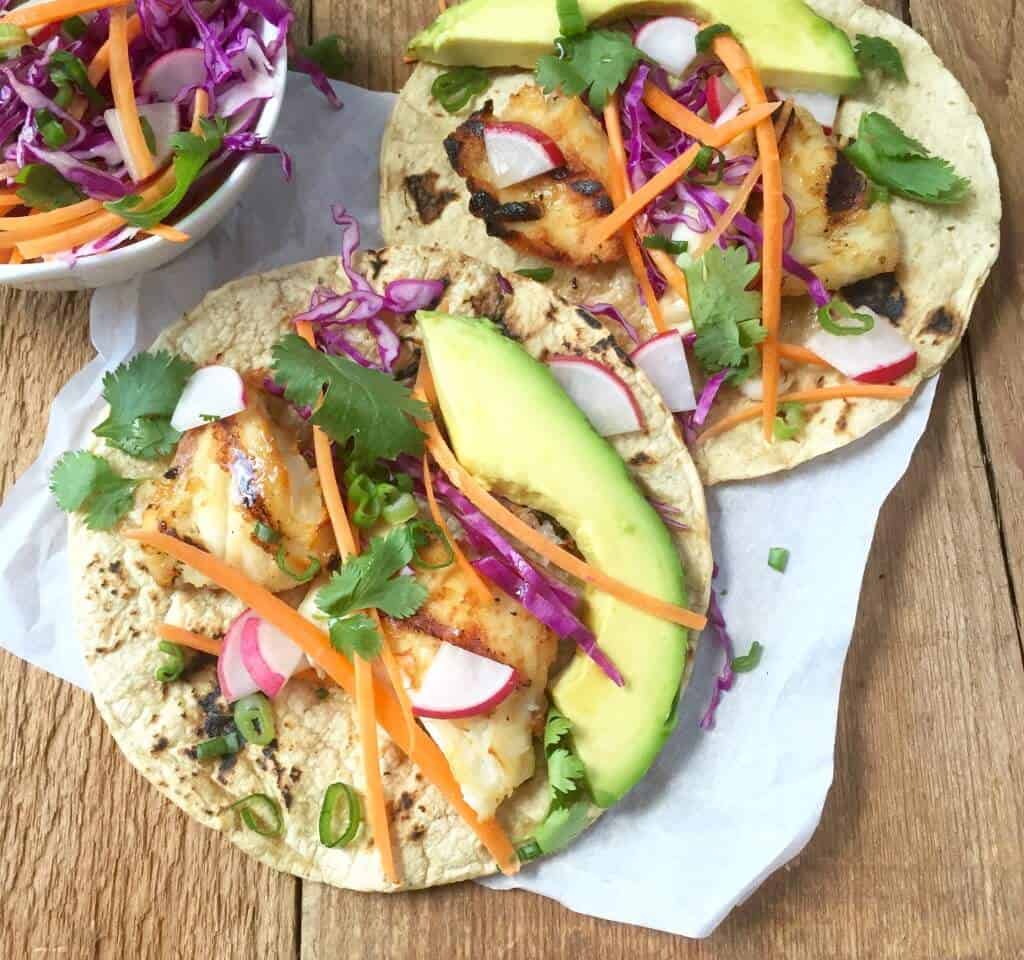 Ingredients
For the Dressing:
For the Slaw:
3 cups shredded cabbage (purple and/or Napa)
1 cup shredded carrot (3 carrots)
1/4 cup chopped green onions (3 green onions)
1/4 cup thinly sliced radish (2 radishes)
1/4 cup chopped cilantro
For the Tacos:
8 corn tortillas, warmed
3/4 pound (12 ounces) white fish or tilapia, lightly salted and grilled (on barbecue grill or in the oven)
1 avocado, sliced
Miso Glazed Salmon Recipe with Snap Peas
This sweet and savory dish only takes  12 minutes to make.  Be prepared to impress yourself, but others as well with your cooking skills!
Ingredients
4 (6oz) skinless salmon fillets
1/4 cup white miso
1/4 cup maple syrup
1/4 cup mirin
1 tablespoon ginger
1 tablespoon sesame oil
1 cup sugar snap peas
Preparation
In a large bowl, whisk the miso, maple syrup, mirin, ginger and sesame oil.
Add salmon and toss to coat.
Preheat the broiler to 400 degrees
Line a baking sheet with parchment and place the fillets on the sheet.
Broil until the glaze is browned and the salmon is firm and opaque, about 5-8 minutes.
*For more information about meal preparation and fitness advice go to: www.facebook.com/xiiroundsoffitness1/